35W DC to USB-PD Black Power Pod Adapter for Power Delivery 2.1MM Jack
Coolgear's 35W DC to USB C Power Pod adapter lets true flexibility come to light! Setup your USB C devices up to 100 meters away for power delivery with no additional electrical outlets to install. Works with Cat 5, Cat 5e, Cat 6, Cat 6a. STP or UTP cables and uses a 2.1mm power jack.
35W DC to USB-PD Black Power Pod Adapter for Power Delivery 2.1MM Jack
ESD Protected USB-C PD from DC POE with 2.1mm Jack
Use the 35W DC to USB-PD Power Pod adapter with an existing POE Network. Connect the POE injector to a splitter by any type of Ethernet patch cable i.e. cat 5/6. The splitter's barrel connector (2.1mm) is attached to the Power Pod's input allowing a USB PD connection through the Type-C port on the other end.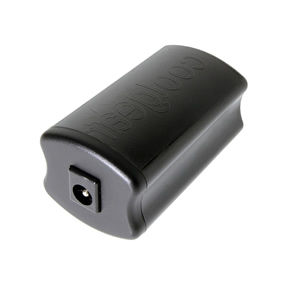 35 watt DC to USB-PD Power Pod
The USB-PD cable from the Power Pod can be connected to any USB Type-C device to power and charge that device. The splitter feeds up to 24V of power to the Power Pod, providing USB C PD at various profiles including; 5V/2.39A, 9V/2.07A, 12V/1.51A, 15V/1.27A, 20.0V/1.11A.
The application flexibility is incredible as the Power Pod allows an installation where only one power source is needed at the POE injector point. There is NO NEED to have additional power outlets installed in the home, office, or warehouse setting.
Testing
iPhone 8, Pixel and Pixel 2, Google Wifi, Nest Cam, iPad Pro 12.9", Samsung S8, Eero Pro, and many others to confirm full compatibility.
The POE injector's RJ45 Ethernet port connects to the splitter, the Ethernet patch cable allows you to make your Power Pod connection up to 100 meters away without any problems. Your USB C PD application can literally be run anywhere you want with only one power outlet.
Advantages
Introduces cost effectiveness by eliminating the need for additional electronics to power the device, or devices connected to it. Additional power outlets do not have to be installed.
Type-C ESD Protection
Great for security camera applications such as Nest Camera installation or POS Terminal.
It can operate any USB C device that accepts power delivery through its USB Type-C port.
Allows phenomenal operating distances (100 meters or more) from the POE injector's RJ45 connection.
Makes use of Cat 5, Cat 5e, Cat 6, Cat 6a. STP or UTP cables

35W USB C PD Power Pod Application Diagram[/caption]
35 Watt Type-C USB-PD Power Pod Specifications
SB Type-C PD Profiles: 5V/2.39A, 9V/2.07A, 12V/1.51A, 15V/1.27A, 20.0V/1.11A
Input: 5.5 x 2.1mm Barrel 24V DC, Output: USB-C Female
Maximum range: 100 meters (330ft.)
Operating Temperature: 10 to 60°C
Humidity: 5-90%
5.5 x 2.1mm Barrel Connector at 24V DC
High efficiency and good thermal Characteristics
Small size adapter
support output CV/CC
Very High Efficiency up to 97%
Over Voltage Protection
Under Voltage Protection
Over Temperature Protection
Support BC1.2, Apple, Samsung
Support Qualcomm QC2.0, QC3.0 (Certificate No.: 4787930010-2)
Support MTK PE+1.1 and MTK PE+2.0
Support Huawei Fast charge: FCP and SCP
Support Samsung fast charge : AFC
Support Spreadtrum fast charge : SFCP
Sometimes you need a product in a flash and just want to verify an item is in stock. Other times you have a specific question regarding a product, shipping method, or your order. Use the form below and we will help. Please refrain from spam, we only log this information to our database for 24-hours and then it's gone.
Specifications
Manufacturer:
Coolgear
Warranty:
1 Year
Availability:

Discontinued

Barcode:
045079160767
Ship Weight:
0.05
Condition:
New
Part Number:
CG-35WPD21B
Color:
Black
Length/Size:
--
USB Spec:
Charging Only
Max Data Rate:
Input Voltage:
Upstream Port:
Downstream Port(s):
Screw Lock
Compatible:
No
Specifications
Manufacturer:
Coolgear
Barcode:
045079160767
Part Number:
CG-35WPD21B
Warranty:
1 Year
Ship Weight:
0.05
Color:
Black
Availability:

Discontinued

Condition:
New
USB Spec:
Charging Only
Max Data Rate:
Input Voltage:
Upstream Port:
Downstream Port(s):
Screw Lock
Compatible:
No