3.3V TTL-232R Serial UART Cable 6FT with 3.5mm Audio Jack
USB to 3.3V terminated TTL-232R cable; 3.3V USB to TTL For 232R serial signals proprietary to serial communication hardware using audio jack connections.
3.3V TTL-232R Serial UART Cable 6FT with 3.5mm Audio Jack
USB to 3.3V TTL Terminated Audio Jack Cable
The U232R3v3AJ TTL-232R 3.3V converter cable is terminated by a standard 3.5mm Audio Jack (AJ) connector at one cable end. This is a TTL cable with an audio jack connector with +5V based TX and RX signalling.
The TTL audio jack cable is fully CE and FCC certified and are used for various applications.
Applications:
Converts the terminated connection with a 3.5mm audio jack which provides access to the TX, RX and GND signals.
Works in the same way as DB9 connector, however, the audio jack serves as a preparatory connection through hardware specifically designed to use an audio jack for serial communication, the rings in the audio jack serve the signal instead of typical pins.
Features
6ft USB Programming Cable with 3.5mm terminating stereo jack
Standard: Tip: TX, Ring-RX, Sleeve-GND
USB TTL to 3.5mm stereo jack cable
300 ~ 1Mbps baud rate speed
TTL-232R Diagram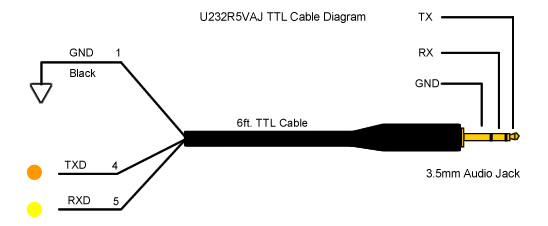 Sometimes you need a product in a flash and just want to verify an item is in stock. Other times you have a specific question regarding a product, shipping method, or your order. Use the form below and we will help. Please refrain from spam, we only log this information to our database for 24-hours and then it's gone.
Specifications
| | | | | | |
| --- | --- | --- | --- | --- | --- |
| Manufacturer: | Gearmo | Warranty: | -- | Availability: | Limited Stock |
| Barcode: | 045079158627 | Ship Weight: | 0.15 | Condition: | New |
| Part Number: | U232R3V3AJ | Color: | Black | Length/Size: | in |
| Port Count: | -- | Port Type: | -- | Input Voltage: | Unspecified or N/A |
| Temperature(Op): | -- | ESD Protection: | -- | Serial Modes: | RS232 |
| LEDs: | -- | Isolation: | -- | Chip: | -- |
Specifications
| | |
| --- | --- |
| Manufacturer: | Gearmo |
| Barcode: | 045079158627 |
| Part Number: | U232R3V3AJ |
| Warranty: | -- |
| Ship Weight: | 0.15 |
| Color: | Black |
| Availability: | Limited Stock |
| Condition: | New |
| Port Count: | -- |
| Port Type: | -- |
| Input Voltage: | Unspecified or N/A |
| Temperature(Op): | -- |
| ESD Protection: | -- |
| Isolation: | -- |
| Serial Modes: | RS232 |
| LEDs: | -- |
| Chip: | -- |