4 Port USB 3.1 Gen1 Isolated Hub with 15KV ESD Surge Protection
Status: Not in stock - Backorder Allowed
The new USB 3.1 4 port hub isolates the four downstream ports from the upstream host port giving you valued circuit protection. With a small footprint, the hub supports 5Gbps super-speed data and backwards compatibility down to USB 1.0 1.5Mbps. With its DIN RAIL mounting plate, it's an ideal hub mountable hub with protection
Product Documentation & Drivers
4 Port USB 3.1 Gen1 Isolated Hub with 15KV ESD Surge Protection
Isolated 4 Port USB 3.1 Hub
This USB 3.1 Gen hub is isolated with 15KV ESD surge protection. The isolation protects your computer by separating, or isolating one portion of the circuit from another. This prevents the isolated downstream ports from affecting the upstream host.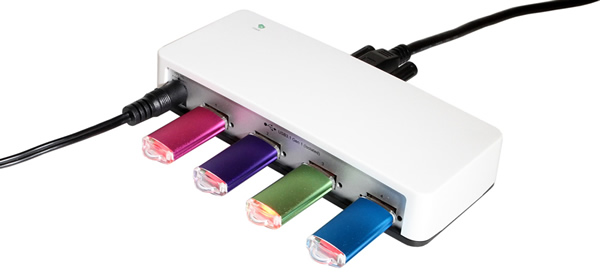 The 4 port USB 3.1 hub is compliant with Gen1 specifications to give up to 5Gbps data speeds. It includes a power adapter for self-power mode and a screw lock USB 3.0 A to B cable for your host to hub connection. The 4 port isolated USB 3.1 hub has 3KV AC isolation, it ideal for DIN Rail or Wall mounting with its included mounting plate (DIN Rail clips sold separately).
4 port isolated USB 3.1 hub Features
Compliant with USb 3.1 Gen1 Specifications
1 USB-B Upstream and 4 USB-A Downstream USB 3.1 Gen1 Facing Ports
Up to 3KV AC Isolation Between Upstream and Downstream Ports
Supports up to 15KV ESD Surge Protection for Each Port
Supports 5Gbps (Super-Speed), 480Mbps (high-Speed), 12Mbpd (Full-Speed), and 1.5Mbps (Low-Speed) Speeds
Multi Transaction Translators (TT) per Hub
Supports USB Battery Charging BC 1.2 CDP and DCP modes
Supports DIN RAIL Mounting Option and Wall Mounting Bracket
Specifications
Operating Temp.: 0 to 55°C (32 to 131°F)
Operating Humidity: 5 to 95% RH
Dimensions: (151.1 x 62.0 x 34.0mm) (with Mounting Kit)
Package Contents
1x 4 Port USB 3.1 Isolated Hub
1x 5ft USB 3.0 screw lock A to B cable
1x 5V 4A power adapter and cord
1x Installation Guide
1x 4pc set of non-slip feet
*Surface Mounting screws not included.
Sometimes you need a product in a flash and just want to verify an item is in stock. Other times you have a specific question regarding a product, shipping method, or your order. Use the form below and we will help. Please refrain from spam, we only log this information to our database for 24-hours and then it's gone.
Specifications
Manufacturer:
Coolgear
Warranty:
1 Year
Availability:
Barcode:
045079159969
Ship Weight:
1.39
Condition:
New
Part Number:
CG-U31iS4PH
Color:
White
Length/Size:
--
USB Spec:
USB 3.2 Gen 1
Max Data Rate:
5 Gbps
Input Voltage:
5V DC
Upstream Port:
USB 3.2G1 / 3.0 Type-B Female
Downstream Port(s):
4x Type A USB 3.2 G1 / 3.0
Screw Lock
Compatible:
No
Specifications
Manufacturer:
Coolgear
Barcode:
045079159969
Part Number:
CG-U31iS4PH
Warranty:
1 Year
Ship Weight:
1.39
Color:
White
Availability:
Condition:
New
USB Spec:
USB 3.2 Gen 1
Max Data Rate:
5 Gbps
Input Voltage:
5V DC
Upstream Port:
USB 3.2G1 / 3.0 Type-B Female
Downstream Port(s):
4x Type A USB 3.2 G1 / 3.0
Screw Lock
Compatible:
No