USB-C 4-Port Hub w/Power Delivery & 15KV ESD Surge Protection USB 3.2 Gen1
Status: Not in stock - Backorder Allowed
4-Port USB-C PD hub includes 2 USB-C PD-source ports and 3 USB-A USB 3.1 port to give you a multi-function hub. This hub can be used while connected to your MacBook, Chromebook, or other Type-C enabled laptop to provide charging power to mobile devices. Supports 5Gbps, 480Mbps, 12Mbps, and 1.5Mbps speeds.
USB-C 4-Port Hub w/Power Delivery & 15KV ESD Surge Protection USB 3.2 Gen1
USB-C 4 Port Hub with Power Delivery
USB-C 4 port hub with Type-C power delivery source operation supports 20V/14.5V/12V/5V power range. The USB-C PD hub is constructed with a metal case for industrial and commercial use. Power is obtained through the 19-20V power input at the barrel connector or 2-wire terminal connector. Surge protection of 15KV across all ports protects USB devices connected to it.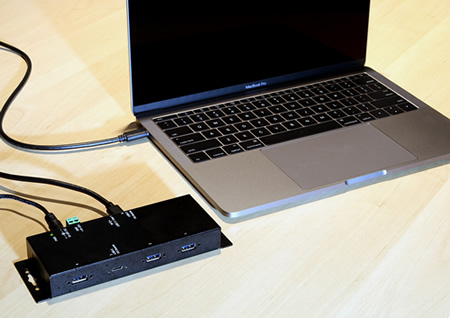 The USB-C 4 port Hub includes 2 USB-C PD-Source ports and 3 USB 3.1 USB Type-A ports. The LED power indicator is built-in showing power to the hub is active and ready to use. Use this USB Type-C hub where power delivery is required to charge mobile phones or tablets, while connected to you USB-C enabled Laptop. Mounting can be done on any flat surface, i.e. wall, table top, under table.
USB-C Power Delivery Hub Features
USB 3.1 Compliant to Gen1 Specifications
Suports USB PD (power delivery) source features
Up stream female port: 1x USB-C PD USB 3.1 Gen1 Connector
Down stream female port: 1x USB-C PD and 3x USB-A connectors
USB-C PD Source Modes: 20V/14.5V/12V/5V
Metal case and Screw Lock for critical applications
Supports 5Gbps, 480Mbps, 12Mbps, and 1.5Mbps speeds
Power input requirement: +19-20V DC
Sometimes you need a product in a flash and just want to verify an item is in stock. Other times you have a specific question regarding a product, shipping method, or your order. Use the form below and we will help. Please refrain from spam, we only log this information to our database for 24-hours and then it's gone.
Specifications
Manufacturer:
Coolgear
Warranty:
1 Year
Availability:
Barcode:
045079159150
Ship Weight:
2.00
Condition:
New
Part Number:
CG-UC31PD4H
Color:
Black
Length/Size:
--
USB Spec:
USB 3.2 Gen 1
Max Data Rate:
5 Gbps
Input Voltage:
19 ~ 20V DC
Upstream Port:
USB 3.2G1 / 3.0 Type-C Female
Downstream Port(s):
1x Type C USB 3.2 G1 / 3.0
3x Type A USB 3.2 G1 / 3.0
Screw Lock
Compatible:
Yes
Specifications
Manufacturer:
Coolgear
Barcode:
045079159150
Part Number:
CG-UC31PD4H
Warranty:
1 Year
Ship Weight:
2.00
Color:
Black
Availability:
Condition:
New
USB Spec:
USB 3.2 Gen 1
Max Data Rate:
5 Gbps
Input Voltage:
19 ~ 20V DC
Upstream Port:
USB 3.2G1 / 3.0 Type-C Female
Downstream Port(s):
1x Type C USB 3.2 G1 / 3.0
3x Type A USB 3.2 G1 / 3.0
Screw Lock
Compatible:
Yes