4-Port USB3.1 Gen 1 Industrial High Temperature Hub w/ Mounting Kit
Status: Not in stock - Backorder Allowed
Coolgear's new USB3.1 4-port hub has a wide range of temperature in which to work with. It's backward compatible with USB2.0 and USB1.1 devices and incorporates two mounting methods to chose from. With excellent heat distribution capabilities, this hub is a great choice for your external devices.
4-Port USB3.1 Gen 1 Industrial High Temperature Hub w/ Mounting Kit
USB 3.1 Gen1 High Temp Hub
The CG-G14PHHT is a USB3.1 Gen1 Industrial Hub that complies with Universal Serial Bus (USB) Specifications Revision 3.1 (Gen1) with up to 5Gbps data transmission. The USB 3.1 4 Port Hub operates with a wide temperature range from -40 to +85°C. It provides 4 downstream facing ports with standard A-type USB3.1 Gen 1 screw-lock connectors.
The industrial USB hub has a RISC-like USB3.1 Gen 1 controller; it is backward compatible when any one of downstream port is connected to an USB2.0/1.1 compliant device, or when the upstream port is connected to a USB2.0/1.1 compliant host.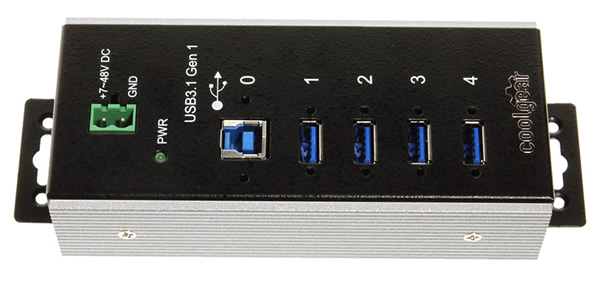 The CG-G14PHHT provides a unique self-power mode to work with wide range (+7~48V) input DC power from its terminal blocks (power adapter sold separately). It supports USB charging specifications by turning its downstream ports from a Standard Downstream Port (SDP) into Charging Downstream Port (CDP) or Dedicated Charging Ports (DCP).
The CG-G14PHHT 4 Port USB 3.1 hub incorporates heat distribution plates on both sides of the hub and vents on both ends. The USB 3.1 Hub also has mounting options for flat surface or DIN Rail making it versatile for industrial applications.
4 Port USB 3.1 Gen1 Hub Features
Compliant with USB Specification Rev. 3.1 Gen 1
Metal Case with DIN RAIL Mounting Kit for Industrial Critical Applications
Provides 4 Downstream USB3.1 Gen 1 Facing Ports
Supports 5Gbps (Super-speed), 480Mbps (High-speed),12Mbps (Full-speed) and 1.5Mbps (Low-speed) Speed
Supports 15KV ESD Surge Protection for Each Port
Multi Transaction Translators (TT) per Hub
Supports +7~48V DC Wide Range Self-power Input
Support USB Battery Charging: CDP and DCP modes
Supports up to 3A USB Bus Power for Each Port
Supports USB Screw-Lock Cable Mechanism
Support Wide Operating Temperature: -40~85°C
Specifications
For systems with USB 3.1 Gen1, USB 2.0, or USB 1.1 Ports
USB3.1 Gen 1 ports
Provides 4 USB downstream ports which managing up to 5Gbps:
Compliant with USB Specifications 3.0
Provides 4 USB3.1 Gen 1 Downstream Facing Ports
Supports 5Gbps, 480Mbps, 12Mbps and 1.5Mbps Speed
Supports Multi Transaction Translators per Hub
Supports +7~48V DC Wide Range Input Self-power Mode from Terminal Blocks
Supports 1.5A USB Bus Power for Each Downstream Port
Supports USB Screw-lock Cable Mechanism
Built-in 15KV ESD Surge Protection for each port.
USB Devices
Supports keyboard, mouse, monitor, scanner, printer, PC Camera, telephone, DVD drive, joystick, virtual reality helmet, modem, PBX and many more USB devices
I/O Hardware
Supports 4 external USB3.1 Gen 1 Type-A connectors and 1 USB3.1 Gen 1 Type-B Upstream connector.
Supports a 2-pin Terminal Block Connector for external power input from AC adapter.
Environmental
Operating Temp.: -40 to 85°C (-40 to 185°F)
Storage Temp: -40 to 85°C (-4 to 185°F)
Operating Humidity: 5 to 95% RH
Form Factor
6.41"(L)x2.48"(W)x1.71"(H) (163.0x63.0x31.0 mm)
Package Contents
4-Port USB3.1 Gen1 Induatrial Hub
5ft. USB Screw lock A to B Cable
2-Wire Terminal Plug
DIN Rail Clip & Screws
Paper Installation Guide
*Surface Mounting screws not included.
Sometimes you need a product in a flash and just want to verify an item is in stock. Other times you have a specific question regarding a product, shipping method, or your order. Use the form below and we will help. Please refrain from spam, we only log this information to our database for 24-hours and then it's gone.
Specifications
Manufacturer:
Coolgear
Warranty:
1 Year
Availability:
Barcode:
045079160422
Ship Weight:
1.23
Condition:
New
Part Number:
CG-G14PHHT
Color:
Black
Length/Size:
--
USB Spec:
USB 3.2 Gen 1
Max Data Rate:
5 Gbps
Input Voltage:
7 ~ 48V DC
Upstream Port:
USB 3.2G1 / 3.0 Type-B Female
Downstream Port(s):
4x Type A USB 3.2 G1 / 3.0
Screw Lock
Compatible:
Yes
Specifications
Manufacturer:
Coolgear
Barcode:
045079160422
Part Number:
CG-G14PHHT
Warranty:
1 Year
Ship Weight:
1.23
Color:
Black
Availability:
Condition:
New
USB Spec:
USB 3.2 Gen 1
Max Data Rate:
5 Gbps
Input Voltage:
7 ~ 48V DC
Upstream Port:
USB 3.2G1 / 3.0 Type-B Female
Downstream Port(s):
4x Type A USB 3.2 G1 / 3.0
Screw Lock
Compatible:
Yes