USB Car Charger 45W w/Dual Port Type-A Normal Charging Type-C Gray
Status: EOL - 2 Remaining
Looking to charge your tablet, cell phone, or camera on the road? Gearmo's 45W USB car charger supports two USB Type-A (legacy) ports and one USB-C port for charging new Type-C enabled devices.
USB Car Charger 45W w/Dual Port Type-A Normal Charging Type-C Gray
Fast, Reliable USB Car Charging
Charge your low power mobile devices fast and with confidence using Gearmo's new 45W USB car charger. This car charger supports dual port USB Type-A and a single port Type-C for non power delivery devices. Charge legacy devices or new USB-C devices simultaneously from one source of power through USB.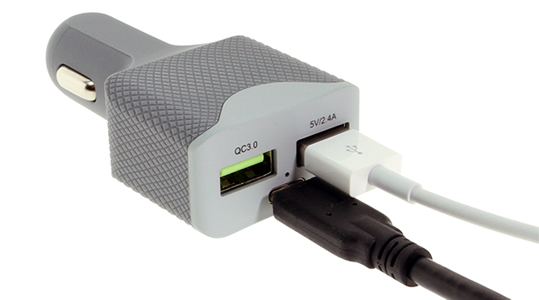 The 45W USB car charger features a QC3.0 Type-A port with variable voltage, a Type-A port with 5V 2.4A for high power charging and a USB Type-C port 5V 3A for non-power delivery, normal charging. This USB car charger is compliant with battery charging protocol 1.2.
The sleek design also features a textured gray surface to ensure the grip is reliable and labeled USB ports for proper port connections for your devices.
Works with ALL USB-C and USB-A enabled devices for normal charging. The USB C charger automatically detects the connected device to allow and deliver optimal charging up to 15 Watts per port.
Application examples: Tablets, Cell Phones, Camera, GPS, Game Console, etc...
45W USB Car Charger Features
QC3.0 USB-A Port:5V/2A, 9V 2A,12V 1.5A
USB-A Port:5V 2.4A
Type C Port: 5V 3A
Works with USB-C enabled smartphones and tablets requiring 2.4A or lower to charge.
Works with USB-A Legacy Devices that require up to 15Watts
Allows for simultaneous charging of a legacy devices
Cigarette lighter for connected power
45W DC Car Charger that supports ALL USB NON-PD Profile Voltages
LED Indicator
Dimensions: 81.37mm(L) x 39.97mm(W) x 22.47mm(H)
Looking for a USB car charger with power delivery and the same great quality? Have a look at these car chargers
Sometimes you need a product in a flash and just want to verify an item is in stock. Other times you have a specific question regarding a product, shipping method, or your order. Use the form below and we will help. Please refrain from spam, we only log this information to our database for 24-hours and then it's gone.
Specifications
Manufacturer:
Gearmo
Warranty:
1 Year
Availability:

EOL - 2 Remaining

Barcode:
045079159228
Ship Weight:
0.13
Condition:
New
Part Number:
GM-UCQCA3P
Color:
Gray
Length/Size:
--
USB Spec:
--
Max Data Rate:
Input Voltage:
Upstream Port:
Downstream Port(s):
Screw Lock
Compatible:
No
Specifications
Manufacturer:
Gearmo
Barcode:
045079159228
Part Number:
GM-UCQCA3P
Warranty:
1 Year
Ship Weight:
0.13
Color:
Gray
Availability:

EOL - 2 Remaining

Condition:
New
USB Spec:
--
Max Data Rate:
Input Voltage:
Upstream Port:
Downstream Port(s):
Screw Lock
Compatible:
No