3ft USB 3.0 C-Type Black A to C Cable
The "USB-C" or "USB Type-C" is the newest universal USB connector that is capable of twice the speed of USB 3.0 throughput and provides the ability to carry more power, up to 100 Watts in future applications. The USB-C connector will work with previous USB versions; however, this is based on the USB specifications and proper connection ports must be used.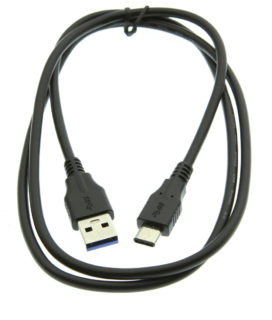 The USB3-AC1MB USB Type-C connector cable provides for the use of USB 3.0 and USB 3.1 versions of the USB Specifications. Like the Apple reversible lightning connector, the new USB-C connector is reversible, the user does not have to worry about which way the connector is placed and avoids possible port or plug damage. The USB-C will not connect into other USB ports to be used as a normal device cable would but can connected from the USB 3.0 host Type-A port to a device or Type-C device port.
USB-C Type Cable Features and Compatibilities
Reversible plug orientation: Power and Ground will be correct regardless of orientation.
USB 3.2: First Generation (5Gbps SuperSpeed) – Second Generation (10Gbps SuperSpeed+)
USB 2.0: Compatible with Low Speed, Full Speed, and High Speed USB specifications.
Durability: 10,000 connect/disconnect cycles
Usage: Can be used with mobile devices, laptops, and tables supporting Type-C port connections and power output.
Supports both USB 3.2 Gen2 (10 Gbps) and USB 3.2 Gen1 (5 Gbps)
Technical Note: The new C-Type connector (also called USB-C) is a new generation of USB connector that is engineered to support USB 3.x specification applications. The cabling that the C-Type connector is manufactured with will determine the amount power and version of USB that is used.
Sometimes you need a product in a flash and just want to verify an item is in stock. Other times you have a specific question regarding a product, shipping method, or your order. Use the form below and we will help. Please refrain from spam, we only log this information to our database for 24-hours and then it's gone.
Specifications
| | | | | | |
| --- | --- | --- | --- | --- | --- |
| Manufacturer: | Coolgear | Warranty: | 1 Year | Availability: | Available |
| Barcode: | 736983901149 | Ship Weight: | 0.10 | Condition: | New |
| Part Number: | USB3-AC1MB | Color: | Black | Length/Size: | 3ft |
| Connector 1: | USB 3.2/3.x Type A Male | Connector 2: | USB 3.2/3.x Type C Male | Wire Guage: | 28 AWG/24 AWG |
Specifications
| | |
| --- | --- |
| Manufacturer: | Coolgear |
| Barcode: | 736983901149 |
| Part Number: | USB3-AC1MB |
| Warranty: | 1 Year |
| Ship Weight: | 0.10 |
| Color: | Black |
| Availability: | Available |
| Condition: | New |
| Conenctor 1: | USB 3.2/3.x Type A Male |
| Conenctor 2: | USB 3.2/3.x Type C Male |
| Wire Gauge: | 28 AWG/24 AWG |
Similar Items