USB to RS-232 Optically Isolated Industrial Adapter with DIN-Rail
USB to RS232 serial adapter designed for industrial applications manufactured with a full metal chassis and included Din rail brackets. The serial adapter includes optical isolation of 2000V and 25KV of ESD protection.
Compatibility
USB to RS-232 Optically Isolated Industrial Adapter with DIN-Rail
Compatibility
USB-to-Serial Industrial Adapter RS-232 DB9 Optical isolation & surge protection USB to RS-232 Adapter
USB-COM-SI-M USB to Serial Adapter Optically and Surge Protected (For Industrial Applications) Metal case with DIN-Rail.
The USB-COM-SI-M USB Serial Adapter is designed for industrial applications to make serial port expansion quick and simple. Connecting to a USB port on your computer or USB hub, the USB Serial Adapter instantly adds a RS-232 serial communication port to your system.
By taking advantage of the USB bus, the USB Serial Adapter makes it easier than ever to add serial ports and serial devices to your system with easy plug-and-play and hot plug features. Plugging the USB Serial Adapter to the USB port, the adapter is automatically detected and installed.
There are no IRQ & COM port conflicts, since the port dont require any additional IRQ, DMA, memory as resources on the system. The adapter is powered by the USB port, and no external power adapter is required.
---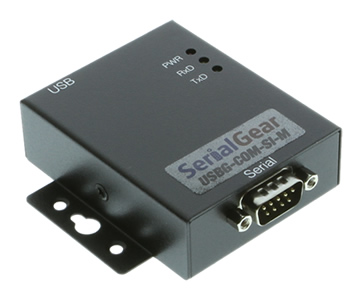 The adapter is with DIN rail bracket for industrial environment. The USB Serial Adapter provides instant connectivity with modems, ISDN TAs, PDAs, handheld & pocket PCs, digital cameras, POS, serial printers. It is suitable for remote access, retail and industrial applications, data collection and other applications requiring high speed RS-232 serial communication port.
Feature & Specification Model No.: USB-COM-SI-M
Adds one RS-232 serial port by connecting to USB port Installed as standard Windows COM port Full RS-232 modem control signals
RS-232 data signals: TxD, RxD, RTS, CTS, DSR, DTR, DCD, RI, GND
2000V DC optical isolation
25KV ESD surge protection
Serial port speed up to 230K bps
USB cable of 0.9 meter included
Powered by USB port. No external power adapter required.
FIFO: 128 byte transmit buffer 384 byte receive buffer
Easy plug & play installation and RS-232 device connection
Works with USB 1.1 & 2.0 host port
One DB9 male connector
LEDs of Power, RxD, TxD for monitoring port status & easy diagnostics
SECC sheet metal chassis with DIN rail bracket
COM Port Number can be changed to COM1 to COM4 to support HyperTerminal, or any other COM port number required
Supports Windows 10, 8, 7,
Sometimes you need a product in a flash and just want to verify an item is in stock. Other times you have a specific question regarding a product, shipping method, or your order. Use the form below and we will help. Please refrain from spam, we only log this information to our database for 24-hours and then it's gone.
Specifications
| | | | | | |
| --- | --- | --- | --- | --- | --- |
| Manufacturer: | USBGear | Warranty: | 1 Year | Availability: | Available |
| Barcode: | 729440690731 | Ship Weight: | 0.60 | Condition: | New |
| Part Number: | USB-COM-SI-M | Color: | Beige | Length/Size: | in |
| Port Count: | 1 | Port Type: | -- | Input Voltage: | Unspecified or N/A |
| Temperature(Op): | 0C ~ 55C | ESD Protection: | -- | Serial Modes: | RS232 |
| LEDs: | -- | Isolation: | -- | Chip: | FTDI FT231XQ |
Specifications
| | |
| --- | --- |
| Manufacturer: | USBGear |
| Barcode: | 729440690731 |
| Part Number: | USB-COM-SI-M |
| Warranty: | 1 Year |
| Ship Weight: | 0.60 |
| Color: | Beige |
| Availability: | Available |
| Condition: | New |
| Port Count: | 1 |
| Port Type: | -- |
| Input Voltage: | Unspecified or N/A |
| Temperature(Op): | 0C ~ 55C |
| ESD Protection: | -- |
| Isolation: | -- |
| Serial Modes: | RS232 |
| LEDs: | -- |
| Chip: | FTDI FT231XQ |